Varsity Esports Rosters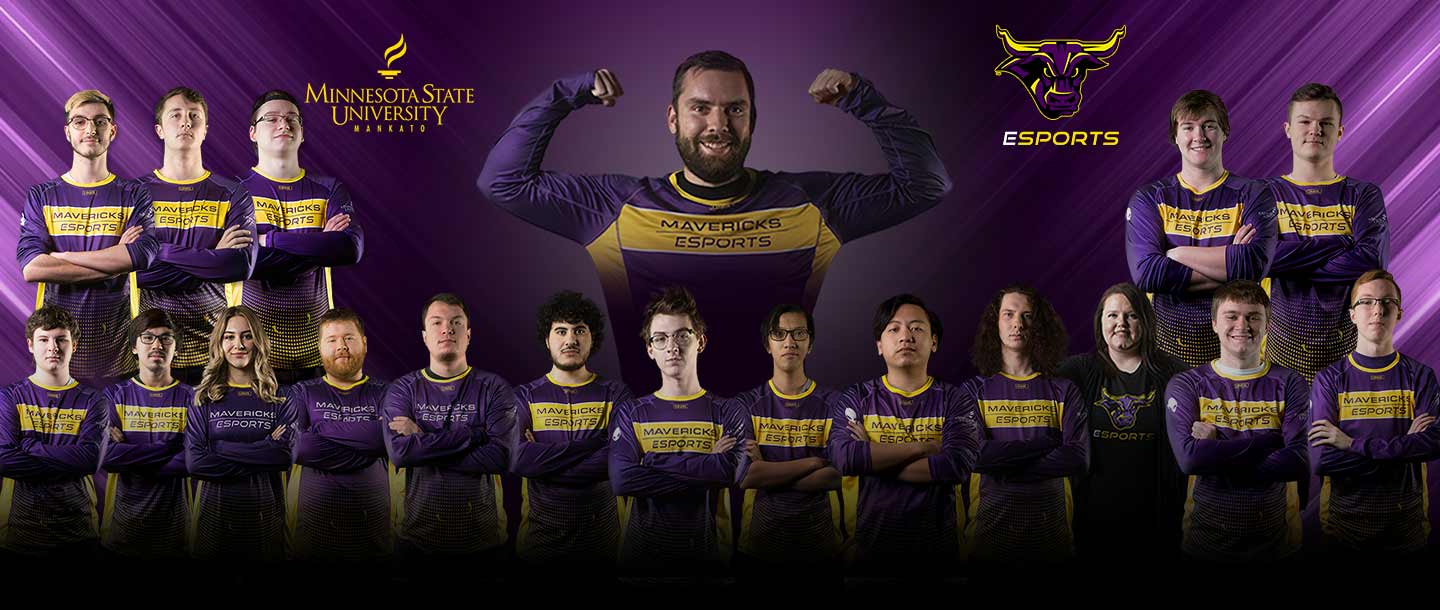 Mavericks Esports is currently competing in four titles for the Spring 2021 season. Check out the teams and players below, or view game schedules.
Jump To:
---
Program Staff
Director, Mavericks Esports
Chief Operations Officer, IT Solutions
Mitch holds a Masters of Public Administration and BS in Computer Management Information Systems and Philosophy from Minnesota State University, Mankato. He is currently pursuing a Doctorate of Education in Counselor Education and Supervision, with a special interest in the use of games and technology to foster learning, development, and growth.
Head Coach, Mavericks Esports
Eligibility Enforcement Committee Member, NACE
Coach Lamm is originally from Lake Crystal, Minnesota, and is an alumna of Minnesota State University, Mankato. She received her undergraduate degree in Business Management and completed graduate school in May 2020 with a Master of Science in Educational Leadership.
---
CS:GO Roster
Counter-Strike: Global Offensive (CS:GO) is a multi-player action game in which one team works to defeat the other using various weapons.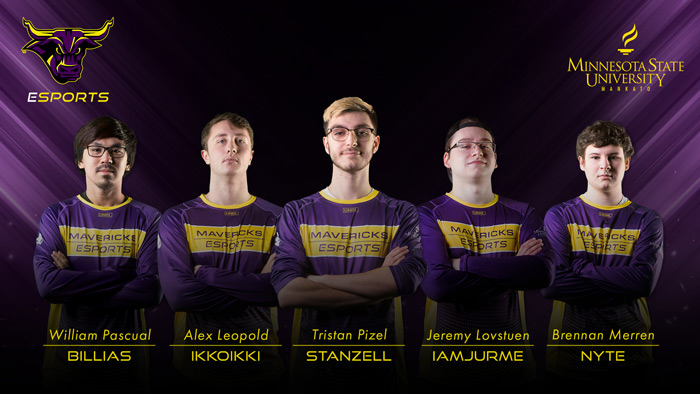 Group photo of CS:GO players. Left to right: William "Billias" Pascual, Alex "Ikkoikki" Leopold, Tristan "Stanzell" Pizel, Jeremy "Iamjurme" Lovstuen, and Brennan "Nyte" Merren.
"IKKOIKKI" - AWPer
Alex Leopold | Senior | Criminal Justice
Alex is from Windom, Minnesota. He got into gaming from his father, but CS:GO didn't catch his interest until he was 19. Since he's always been a fan of esports, competing at the collegiate level is very exciting. He feels confident with his team and looks forward to continuing to grow as a player through competition.
"IAMJURME" - Rifler
Jeremy Lovstuen | Sophomore | Electrical Engineering
Jeremy is from Stewartville, Minnesota. He joined Mavericks Esports with prior experience in the exciting realm of competitive gaming. What he enjoys most about playing competitively on this team are the new opportunities he gets to experience and the unified environment it creates for students.
"NYTE" - Rifler
Brennan Merren | First Year | Political Science
Brennan is from Wayland, Michigan. He has been gaming since he was young, using it as a way to connect with friends. For Brennan, being a part of a collegiate CS:GO team is fulfilling and he enjoys helping the team work toward success.
"BILLIAS" - Rifler/Support
William Pascual | Junior | Psychology
William is from Maple Grove, Minnesota. He has always gamed in a competitive nature, but being on a collegiate team has motivated him to practice harder now more than ever. He enjoys CS:GO because of its tactical gameplay where teamwork is the main factor that determines a win.
"STANZELL" - Rifler
Tristan Pizel | Senior | Computer Information Technology
Tristan is from Rochester, Minnesota. He's been gaming since elementary school on the PlayStation 2. He found his beginnings in Call of Duty, and eventually became interested in CS:GO where he set his mind on playing competitively. He enjoys the team's chemistry and knows quality practice is the key to success.
---
League of Legends Roster
League of Legends is a strategy based, multi-player battle arena game with a variety of unique characters - called champions - all with different abilities.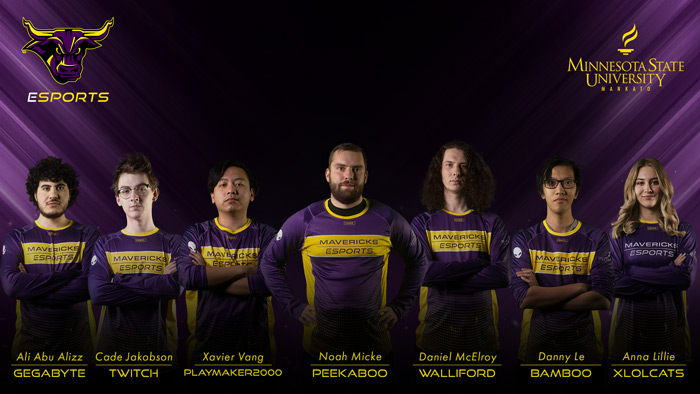 Group photo of League of Legends players. Left to right: Ali "Gegabyte" Abu Alizz, Cade "Twitch" Jakobson, Xavier "Playmaker2000" Vang, Noah "Peekaboo" Micke, Daniel "Walliford" McElroy, Danny "Bamboo" Le, and Anna "Xlolcats" Lillie.
"TWITCH" - Bottom Lane
Cade Jakobson | Sophomore | Psychology & Criminal Justice
Cade is from Eyota, Minnesota. He has been playing League of Legends since he was 12 years old, and is excited to now be playing on varsity. He has high hopes for Mavericks Esports in the collegiate league.
"BAMBOO" - Support
Danny Le | Sophomore | Computer Science
Danny was born in Vietnam, but grew up in Austin, Minnesota. He transitioned from being a Starcraft II player to a League of Legends player in 2014. He looks forward to and enjoys competition against other teams.
"WALLIFORD" - Middle Lane
Daniel McElroy | Senior | Sport Management
Daniel is from Rosemount, Minnesota. He got his gaming inspiration from his brother, and now is thrilled to get to play alongside his teammates on varsity.
"PEEKABOO" - Jungler
Noah Micke | Graduate Student | Sport Management
Noah is from Rosemount, Minnesota. His brother got him into gaming and he has been playing League of Legends since 2010. He's excited to see what Mavericks Esports can accomplish in the esports world.
"PLAYMAKER2000" - Top Lane
Xaver Vang | Sophomore | Computer Information Technology
Xavier is from Blaine, Minnesota. Members of his family, including his father and cousin, helped pique his interest in gaming and League of Legends. The Spring 2021 season is his first time playing in a competitive league.
"GEGABYTE" (Sub-Player & Assistant Coach)
Ali Abu Alizz | Senior | Computer Information Technology
Ali is from Amman, Jordan. He has been gaming his whole life and has always loved the competitive nature of video games. He first got into League of Legends nine years ago when his middle school friends started to play, and he hasn't stopped since.
"XLOLCATS" (Assistant Manager)
Anna Lillie | Senior | Marketing
Anna is from Burnsville, Minnesota. She has been gaming her whole life, starting with Nintendo games when she was growing up. She still even plays her old GameCube from time to time! She first started playing League of Legends in 2011 and recently got interested in the competitive scene. Anna helps the team out as the Assistant Manager.
---
Madden NFL Roster
Madden NFL is an American football video game that mirrors real life, with all 32 NFL teams and their players appearing in-game. Competitions are one-on-one.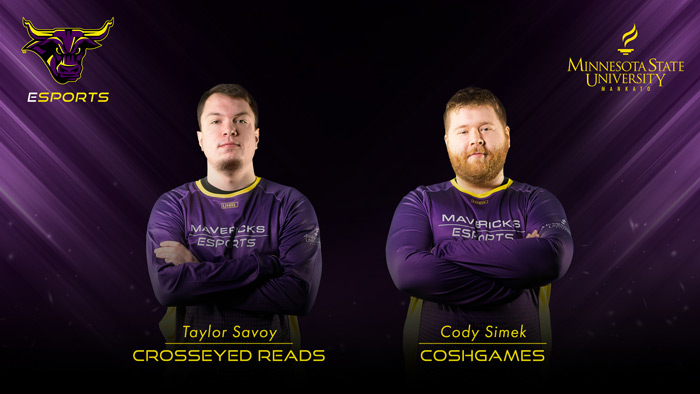 Group photo of Madden players. Left to right: Taylor "Crosseyed Reads" Savoy and Cody "Coshgames" Simek.
"CROSSEYED READS"
Taylor Savoy | Junior | Accounting
Taylor is from New Ulm, Minnesota. He has always been a competitive person, which has allowed him to grow his skills in the esports scene. He has played in multiple Madden tournaments before, including the LevelNext: Fall Champions Series, where he made it to the quarterfinals.
"COSHGAMES"
Cody Simek | Senior | Communications
Cody is from Lonsdale, Minnesota. He was first introduced to gaming by watching his older brother, and once he got his first Xbox, he began to play nonstop. Cody has always been a fan of football, specifically the Minnesota Vikings, so Madden comes naturally to him.
---
Rocket League Roster
Rocket League is a multi-player arcade-style video game based on soccer, but with epic vehicles.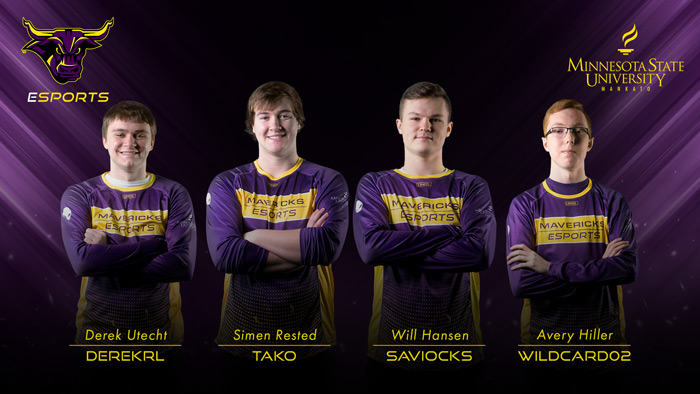 Group photo of Rocket League players. Left to right: Derek "Derekrl" Utecht, Simen "Tako" Rested, Will "Saviocks" Hansen, and Avery "Wildcard02" Hiller.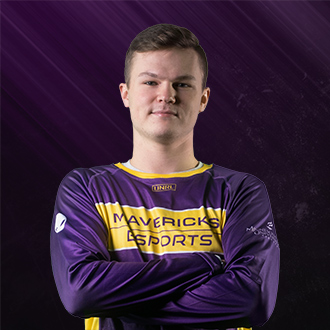 "SAVIOCKS"
Will Hansen | Senior | Computer Engineering Technology
Will is from Rochester, Minnesota. He began playing Rocket League in 2017 when he was a soccer player, and enjoyed it because of how similar it was to the game of soccer. He's been playing ever since! Now, Will most enjoys playing on a team full of dedicated players with the same mindset as him.
"WILDCARDO2"
Avery Hiller | First Year | Accounting
Avery is from Wyoming, Minnesota. He's been gaming since he was young on various consoles, first enjoying story-based games and then moving towards competitive games. Rocket League was recommended to him and the unique gameplay caught his eye. One thing he enjoys about competition is the opportunity to learn from other teams.
"TAKO"
Simen Rested | Junior | Computer Information Technology
Simen is from Prior Lake, Minnesota. He was originally introduced to Rocket League on the Nintendo Switch, and once he got into the competitive scene, he invested in a PC and has played ever since. In competitive gaming, Simen most enjoys growing his skills as a player and building new relationships.
"DEREKRL" (Sub-Player)
Derek Utecht | First Year | Civil Engineering
Derek is from Watkins, Minnesota. He became interested in gaming through his oldest sibling and got into Rocket League when he was given the game as a gift in 2016. He feels that learning how to communicate effectively is a big part of any team's ability to perform well.